Daily Archives:
18/09/2011
Well, it's official. There is a new social network out there, taking the world by stage, and our favorite search engine is heading it. Google Plus comes with several unique stimulating features, becoming a hybrid between our beloved Facebook, Twitter, Skype, and PhotoFish: a plethora of personal projection. Humans are creatures of habit, so most users of Google or Facebook won't change their social routines anytime soon simply because a new tool is out there (Ha!). But if you're looking for a way to organize your numerous friends, co-workers, or widespread relatives, then Google Plus will be your new Go-Go-Gadget, to quote our favorite animated Inspector.
Now, I know that the Internet, an ever-changing addictive buzz off which we thrive, can be overwhelming when it comes down to the amount of connections, social, work-related or otherwise, in constant need of updates. I don't blame you for feeling a bit lost in the deep well that is the Web. At 21 years old, I feel confident enough to be called technologically savvy yet the prospect that some people consider cyber etiquette to involve updating your status every 10 minutes blows my mind. A couple of people, including several renowned news stations such as FOX, CNN, and KTLA 5, have commented that because of this attitude and the growing means of social association, the current generation will come to naturally expect immediate gratification in regards to friendship, degrading the importance of long-term human connection. However, despite this increasing possibility, tools like Google Plus enable businesses, friendships, even relationships to be conducted over long distances, or short distances if you are feeling particularly lazy.
Due to the art of social networking, our world has become incredibly small, even smaller if you're using this new Google Plus.
The 'Hangout' feature in particular on this site has to be the most innovative mode of communication I've ever seen, something beyond Skype or any other video chat connection. So innovative in fact, that I'm having flashbacks to "2001: Space Odyssey" (The stars are only one step away). According to an articl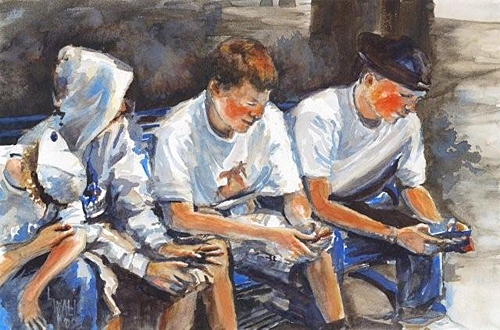 e by James Brandon of the Digital Photography School, this 'Hangout' quality allows the user to create a space in which people with similar tastes or preferences can video chat together, disclosing websites, photography, literature, or any other common thought. To think that we've gone from lazying about in our living rooms with our friends to doing it without any physical contact. It is a great social platform to launch websites, gain organized social circles, and pursue future clientele or simply common associates. Those of a more artistic nature will find themselves drawn to this new system of sharing, over which they can broadcast opinions or critique personal works, face to face. Such an interesting and original way of communicating will certainly draw attention. Like its predecessors MySpace and Facebook, Google Plus will take its time to hop on board the social fad train but with all of these new features, it definitely won't take long to come around the Web. Choo-choo!
Related articles